---
Maintenance method of Auto Digital Lost Foam Block Molding Machine china
---
Auto Digital Lost Foam Block Molding Machine china is a high-efficiency building material production equipment, often used to produce bricks, fences and other building materials. In order to ensure the normal operation of the equipment and ensure the production efficiency and product quality, it is necessary to maintain the equipment regularly. The following is the maintenance method of Auto Digital Lost Foam Block Molding Machine china.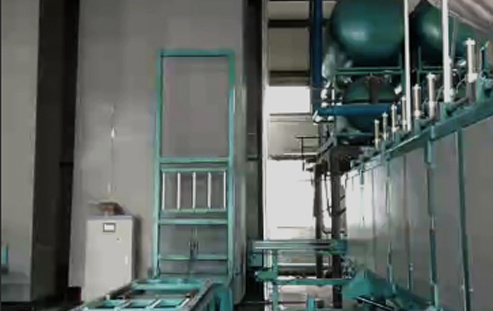 1. Daily cleaning and maintenance
1. After the daily work, all the equipment should be cleaned, including the surface and internal structure of the equipment, to remove residues, dust and other foreign objects.
2. Pay attention to clean up the debris near the cutting area to avoid blockage and affect normal work.
3. Before starting the equipment every day, confirm whether the electrical appliances and transmission parts are in normal working condition.
4. Clean the lifting chain and add proper amount of lubricating oil to prolong its service life.
2. Regular maintenance
1. Clean the chassis every week, check whether many parts of the transmission parts are loose, and whether the fastening screws and pins are in normal positions.
2. Maintain the external soft structure every month, such as: shield, etc., and the iron parts on the surface can be sprayed with anti-rust paint.
3. Half-yearly maintenance, adjustment and cleaning of the oil circuit lubrication system, replacement of old oil, cleaning of grease and filling of new oil, cleaning of filter screens, etc.
4. Carry out large-scale maintenance on the entire equipment every year, disassemble all parts for thorough inspection and cleaning, replace worn parts and lubricating oil, and enhance the service life of the equipment.
The above is the maintenance method of Auto Digital Lost Foam Block Molding Machine china. In the daily maintenance process, the equipment manual should be carefully read, and maintenance should be carried out according to the specified maintenance cycle. Be sure to operate in strict accordance with the correct procedures, and do not disassemble or modify the device at will, so as not to affect the function or safety of the device.